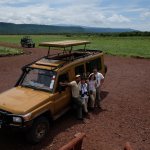 Family Imaz Blanco: Begoña, Enrique, Amaia (14) and Iñigo (12).
April/May 2014 - 2 Adults & 2 teenagers - Spain - 9 days safari 6 days Zanzibar 2 days Dar es Salaam
Years waiting for the right occasion, when we came across Tandala we had no doubt. They organized the perfect safari for us following our wishes. We spent the days discovering National Parks and Game Reserves lead by a highly professional driver, close and friendly at the same time; and evenings at the relaxing atmosphere of the hotels they booked for us, always at convenient locations. We only have great memories of amazing Tanzania and this dream trip that came true."